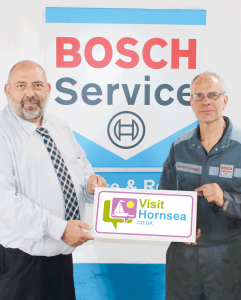 Hornsea's new website www.visithornsea.co.uk which was seed funded from the East Riding of Yorkshire Council's High Street Fund has gained its first advertiser this month.
Local family business and Bosch Car Service Centre, Seaton Garage were the first to upgrade their free listing to an enhanced entry, which gives them the facility to explain more about their business and add more contact details to their directory entry. The site, which was only published online at the end of June 2016, has already had almost 4000 visitors and is gathering momentum as content is being entered and updated.
Mike Allison (pictured left with Simon Tudor of HARP) said "We are really pleased to be able to support this initiative and can see that the site will be of real benefit to both visitors to Hornsea and its residents."
Simon said "It is great to see that Seaton Garage has been able to get behind this project and would remind other local businesses that they are entitled to a free basic directory listing which they can amend or upload via the contact form on the site at http://visithornsea.co.uk/contact/"
The website, which describes itself as "all about Hornsea" was initiated by HARP, the Hornsea Area Regeneration Partnership, designed by TOLC Signs and Graphics of Seaton and is administered by Let's Go Hornsea and
Hornsea Community News. A key feature of the site is the free listings for all sports clubs and community groups as well as the businesses. It also includes a Calendar of Events and regular news items.
Details of advertising and sponsorship opportunities can be found online.