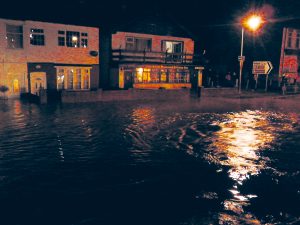 Friday 13th lived up to its name for some residents this month after an awesome display of power from the sea wreaked havoc.  Warnings had been issued to all towns along the East Coast but the biggest problems were expected further south so it came as a bit of a shock that Hornsea appeared to be one of the worst affected towns in the country. Following the high tide, water came over the sea defences on the promenade area around 5 pm and around 10 residential and commercial properties suffered flooding damage.  Of those, five residential and two commercial properties were deemed to have suffered significant damage.  Council staff visited those affected the following morning to give advice and assistance to those whose properties were damaged and contact details were left where there was no-one available. The flooding saw the closure of Marine Drive and Sands Road, until officers from the council's Streetscene Team brought in skips enabling them to clear the debris quickly. Hornsea Inshore Rescue did a great job in evacuating residents from their flooded houses using their dinghies as well as rescuing people from a car on the South Promenade.  The Town Hall opened to receive those who had nowhere else to go.  Councillor John Whittle commented afterwards,
"The Town Hall was open after the surge, with Gary Oxendale from the Town Council maintenance team providing an excellent service liaising between ERYC, the police and the refugees from the storm.  A number of people came in and volunteered to have strangers in their homes overnight if need be.  Gary has recorded the phone numbers.  A gentleman came in with food, if it was to be required.  The Lions have contributed blankets, clothing etc.  I was at the Town Hall along with Cllr Brian Morgan to see if there was much we could do.  Whilst I was there between 19.00 and 20.00, there were three refugees.  One went home, one went to stay with a relative and one was assisted by Humberside Fire Service.  From what I saw during the evening there was excellent partnership work between the different organisations, including Hornsea Inshore Rescue.  As regards clean up, ERYC will be assisting in any way they can.  I suggest people get their insurance claims in.  Any further support could be had from ERYC, family or friends.  I understand there is a hardship crowd funding on Facebook."
Mayor Lee Walton added,
"Although the storm surge had been anticipated, I don't think anyone in Hornsea was expecting it to be quite as severe as it turned out to be.  I have to offer praise to the East Riding of Yorkshire Council who quickly instigated emergency procedures, which resulted in them contacting town council staff to take in those displaced from their homes.  My thanks go out to the town councillors and town council staff who attended the Town Hall to offer their help, along with the residents, community groups and shops who popped in to offer either their aid or food and supplies.  I'd also like to thank all of the emergency services who were in attendance keeping Hornsea residents safe."
The council are discussing the floods as we go to press and is considering what provisions can be put on place for the future, bearing in mind that these incidents are likely to become more frequent as the sea advances and the weather becomes more extreme.